JUNIOR GOLF
Welcome our &nbsp &nbsp 2022&nbsp &nbsp Juvenile Captain's
Alicia O'Keeffe &nbsp & &nbsp Cael Sullivan
Congratulations to our Fingal Foursomes team that made it to the semi-finals on Tuesday 19th April in Portmarnock Links narrowly losing to Donabate
Congratulations to Amelia Penrose winner of the All Ireland School's competition in Clontarf with a great score of 46pts. Amelia Lanigan was 2nd with 44pts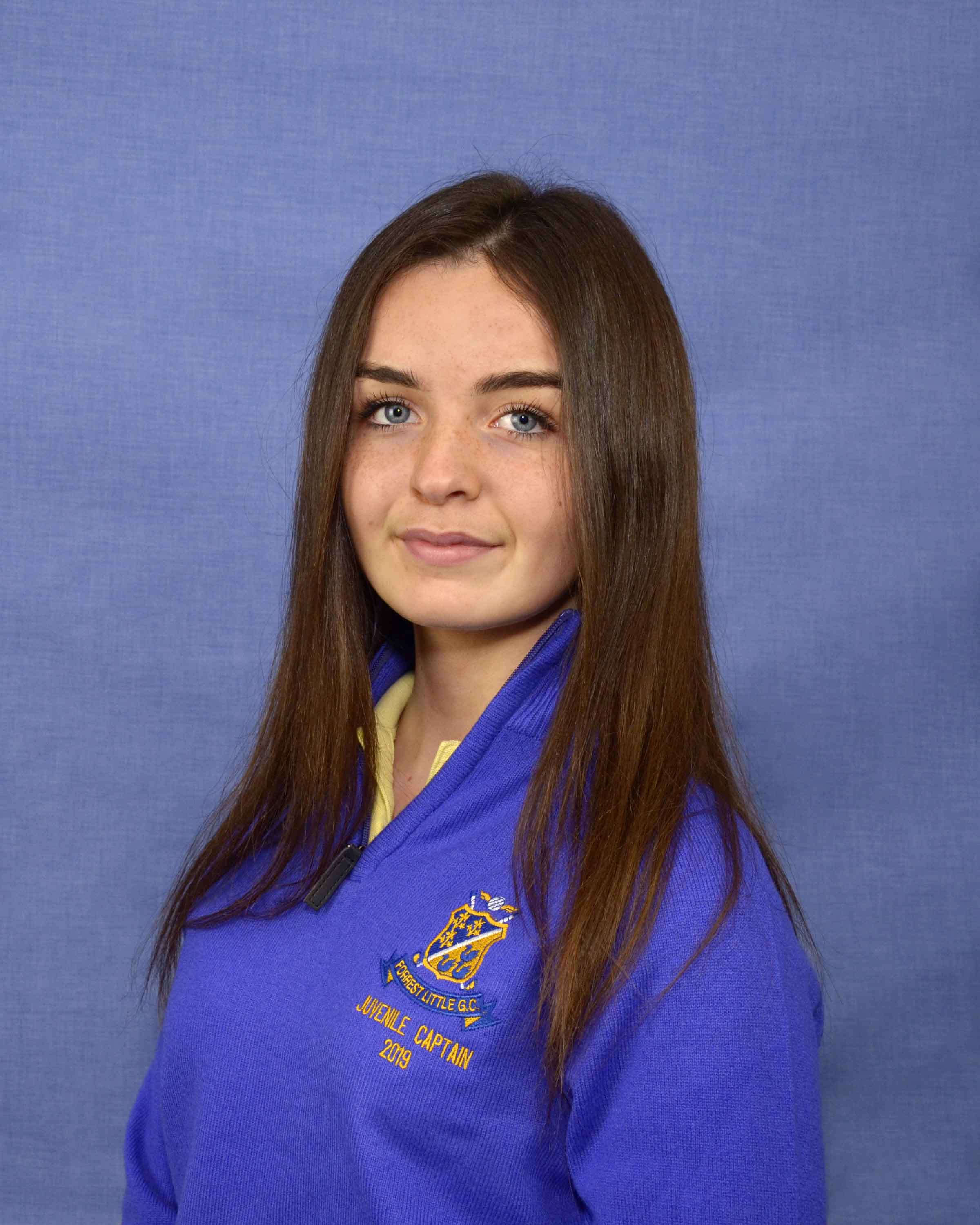 Forrest Little GC Juvenile Girls 2020 Prize Presentation day. Congrats girls!
On 27th September 2020, our juvenile girls held their end of summer prize presentation. This was held outside in the sunshine, on the practice area, due to Covid restrictions. There were prizes galore for the Friendly Friday competitions and the Summer Sunday League played over the last 9 weeks.
After the presentation the girls played a friendly fun Scramble to make it a great end of Summer Final Day.
"2016 – A year to remember for Julie McCarthy"
Player Profile Questionnaire – Julie McCarthy.pdf
As a member of Forrest Little and The Island, Julie McCarthy's golfing talents really shone through in 2016.
The start of the season proved difficult for the talented +1 handicapper, as she practiced at the French International Lady Junior U21 Championship and suffered tearing and bruising to her left wrist. "It was in a cast for six weeks and I couldn't move it, so I spent that time looking over the courses I would be playing during the season and tried to prepare other ways. It was coming up to summer exam time as well, so it wasn't the worst timing school wise," laughed the 17 year old.
After the six week confinement, she was ready to get back to her practice regime, but was restricted to chipping and putting only, "I was really doubting what was going to happen with my game as I had no long game practice in 12 weeks but it turns out spending a few weeks concentrating on chipping and putting only, really paid off."
Julie played in the Ulster Girls Championship a week after getting her cast off and secured first place, she then won the Leinster Girls Championship, followed by her second Irish Girls Close Championship title at Kilkenny Golf Club. She closed out July on a high after notching the top spot at the Connacht Girls Championship, ten shots clear of her closest competitor.
In August, she was part of the Irish Girls Team who won the Home International Matches for the first time ever at Conwy Golf Club, Wales. When asked if individual or team success was better, she added "Individual and team success really differ. I enjoyed winning the Close for the second time. It was a full four weeks on the road in July, with Ulster, Leinster, European Team Championships and the Close, so to finish with a win in Kilkenny on the 20th was pretty great. The Home Internationals was just incredible. We have all been so close as a team for the last few years and it was extra special as it was my last year playing under 18 as it was for Niamh (McSherry) too."
It is Leaving Cert exam year for Julie but a strict focus on gym and study Monday to Friday and practice at the weekends means she will still be prepared for the 2017 golf season. Only two weeks ago, she officially signed for Auburn University in Alabama and she shared her excitement, "My family and I went over to Auburn in October 2015 and we all fell in love with it straight away. We visited a few other universities while we were there but I knew Auburn was where I wanted to go."
Julie will finish her exams in June 2017, spend the summer competing in National and International tournaments and prepare for university life next autumn, before she starts at Auburn in January 2018.
Exciting times lie ahead for the Irish International and she is taking it all in her stride, "I would advise younger and up and coming players not to be too hard on yourself. Take each shot and each season as it comes and just enjoy it!"
– See more at: https://www.golfnet.ie/news/ilgu/1946/2016-a-year-to-remember-for-mccarthy#sthash.kwu3AnTw.dpuf
– See more at: https://www.golfnet.ie/news/ilgu/1946/2016-a-year-to-remember-for-mccarthy#sthash.kwu3AnTw.dpuf
Four in a row for Julie McCarthy as she wins Connacht Girls Championship
On the hottest days of the year so far Roscommon Golf Club was host to the Golfstyle Connacht Girls Championship. Today saw the girls' play 36 holes on Tuesday followed by 18 on Wednesday with Julie McCarthy leading the way after scores of 70 in the first two rounds. She contined her fine form in the third round to finish on -8 and 10 shots ahead of the chasing pack. This is Julie's 4th win in a row afer she claimed the Ulster, Leinster and Irish Girls' titles.
Congratulations to Julie McCarthy in taking home the silverware as she captures the Irish Girls' Close Title
'Spectacular Golf' was the cry of the afternoon as the spectators in Kilkenny Golf Club were treated to an amazing round of golf in the Irish Close Championship Final.
The sun broke through once more as the final of the Irish girls Close got under way just before 2pm today as Niamh McSherry (Lurgan) and Irish International teammate, Julie McCarthy (Forrest Little) went head to head. The pair shared pars on the opening two holes but Niamh shot a fantastic eagle on the 3rd to go 1 up. Julie quickly brought the match back to all square with a par on the 4th and birdied the 6th to swing the tie 1 up in her favour. Niamh fought back with 3 birdies in a row to start the back 9 two shots clear of Julie but as they teed up on 12, Niamh had extended her lead by another, but was soon reigned back in. The pair halved the 14th with birdies and the 15th with pars but Julie got herself back on level terms with a birdie on the 16th. Niamh made, what everybody assumed to be, the decisive move of the match on the 17th with a steady par to head down 18 with a one shot lead, however Julie was as steady as always and made par with a tremendous up and down from the bunker. The pair both boomed their drive down the 1st (19th) again but both slightly further right than they would have hoped resulting in the hole being halved with two pars. In the end, Julie McCarthy came out victorious with yet another par on the 20th hole to win her 2nd Irish Girls' Close title.
Julie having already claimed the Ulster and Leinster Girls' Championships this year will be hoping to keep to her winning ways as she heads to Roscommon this coming week in her bid for the Connacht Girls' Championship. We wish her the very best of luck as she continues to keep the Forrest Little flag flying.